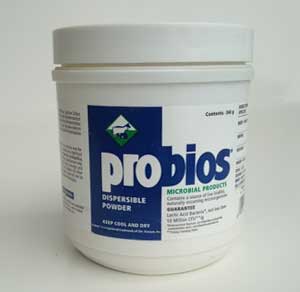 ProBios dispersible powder
Probios is the world's most widely recognized, researched, and used brand of DFM (Direct Feed Microbial) probiotics
Naturally Restores Normal Digestive Balance
Probiotics are "Good" bacteria that can boost the level of beneficial bacteria in the digestive system and restore its natural balance
Use as a topical dressing on food for Pet Pigs
To maintain good health in the digestive system
Improve appetite and aids in weight gain
Before, during and after antibiotic treatment
In stressful situations caused by changes in their environment: Travel, Visits to the Vet, Training, and Changes at home…Etc.
How it works:
As remedial solution…
Stress, Age and antibiotics can cause changes in the natural balance of beneficial bacteria in the digestive system. The number of pathogens increase while the number of beneficial organisms decrease, causing digestion upsets including: diarrhea, constipation and discomfort.
As maintenance solution…
In animals to help sustain good health, Probiotics can maintain and restore the normal balance in the gut and help to improve their overall health by improving nutrient absorption.
Label Guarantee Enterococcus faecium, Lactobacillus acidophilus, Lactobacillus casei, Lactobacillus plantarum 10 Million CFU**/g **Colony Forming Units
Ingredients:
Sucrose, Dried Whey, Sodium Silico Aluminate, Dried Enterococcus Faecium Fermentation Product, Dried Lactobacillus Acidophilus Fermentation Product, Dried Lactobacillus Casei Fermentation Product, Dried Lactobacillus Plantarum Fermentation Product and Sodium Thiosulfate.
For maintenance use Ω the (5g) scoop enclosed for each 50 Lbs once a day, with or without food
For remedial use (after antibiotics) use double the dose throughout treatment and for another five days thereafter, one to two hours after feeding