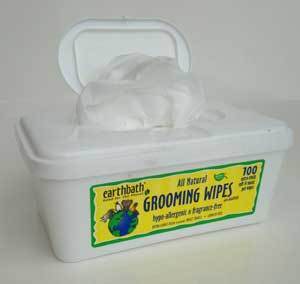 EarthBath Grooming Wipes
All Natural Grooming Wipes
100 large, soft, moist, thick, wipes in a dispensing container.
Great for touch up grooming or as a bath alternative. Try these extra thick, large, soft, pet wipes!
Contains:
Only natural cleanser
Including the exotic Hawaiian awapuh
Extract shine enhancing coat conditioner
No animal by products or alcohol (Lanolin-Free)
Vitamin E and Aloe Vera to moisturize coat and skin
Safe to use every day
Extra large (8 in. by 7 in.) and thick
Leaves a show quality shine
Veterinarian approved
Hypo-Allergenic Fragrance-Free
These wipes provide great cleansing and conditioning for pets that may have sensitive skin, allergies, or who just want to be themselves.  They wipe away dirt and dander, they condition and shine the coat, and being that that are sulfate and paraben free, they are safe for daily use.
All Natural Grooming Wipes – 100 large, soft, moist, thick wipes in a dispensing container.