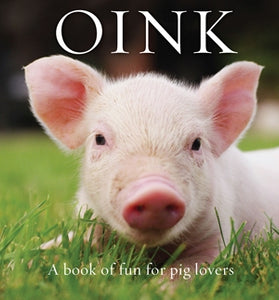 Oink - A Book of Fun for Pig Lovers
Pigs rock! They are smart, they can learn tricks, they're actually incredibly clean, and they're communicative, social animals. More and more people — including superstars such as George Clooney and Miley Cyrus — have discovered all the delightful characteristics that make them such endearing pets.
Oink is celebration of these wonderful creatures and the perfect gift for anyone who has ever fallen under a pig's spell! Featuring memorable quotes from people such as A.A. Milne, George Bernard Shaw, John Howard, Shelley Duvall and Winston Churchill, each accompanied by a heart-warming, beautiful photograph, this is a book that's guaranteed to make you smile.