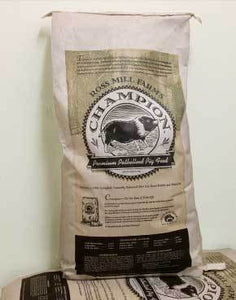 Champion Pig Food - 20lb
CHAMPION PREMIUM POTBELLIED PIG FOOD: 20lb BAG
Champion – a specially-formulated, pet pig food.  Always fresh, it provides a complete naturally balanced diet for good health and disposition.
Developed by leading experts, Champion is unique… the result of extensive research, the practical experience of breeders, and the professional advice of veterinarians.  It is the state of the art;  Champion is the result of what we now know after 28 years of managing this unusual breed.
100% natural, made from all natural grains and fibers.  Champion contains no fillers, meat, by-products, or artificial preservatives.
Provides A Complete Balanced Diet.  Champion takes natural ingredients and fortifies them with all the essential nutrients your pet pig needs, including selenium and the antioxidants, vitamin E and beta carotene.
THERE'S A REASON IT'S CALLED CHAMPION
Nothing is more important in maintaining good health than a well-balanced diet.  Providing the right balance can be the challenge.  The balance between what your pet pig needs, good nutrition… and what they want, to feel full and satisfied.  Finding a food that delivers the correct balance of protein, fat, and fiber is important… it can make your pig a Champion, too.
Too Much Protein Can Be A Problem – High protein and fat over time can cause "over-conditioned" (fat) pet pigs and that can lead to health problems and a shorter life.
Not Enough Fiber Can Be A Problem, Too – Fiber provides bulk in the diet and aids in the digestive process.  A lack of sufficient fiber may also lead to an unsatisfied, "empty" feeling and grumpiness.
You Can Trust Champion!  It is always milled to an exact formula.  It's right on our label, making a big difference for you and your pet with better digestibility, predictable results, and a healthier animal.
Champion Premium Potbellied Pig Food provides a nutritionally complete and balanced diet for both good health and disposition… with 14% Protein, 2% Fat, and 13% Fiber… your little Champion will love it!
There is Simply No Better Food for Your Pig
Recommended by veterinarians, happy pet owners, and healthy, contented pigs.
GUARANTEED ANALYSIS
| Crude Protein (min) | 14% |
| --- | --- |
| Lysine (min) | .74% |
| Crude Fat (min) | 3% |
| Crude Fiber (max) | 12.5% |
| Calcium (min) | .6% |
| Phosphorus (min) | .55% |
| Selenium (min) | .3 PPM |
| Zinc (min) | 50 PPM |